The financial collapse of Iceland, once the high-flying center of global high-finance, has triggered some fascinating media second-guessing about alpha males, testosterone-driven work cultures and why women's focus on "emotional capital" is every much as important as financial capital. It started with a fascinating article in this month's Vanity Fair, which points out that the only stable bank in the country is Aydur, Capital, run by women. The country has also put in place a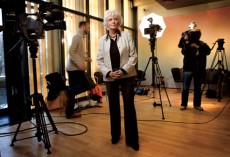 woman prime minister, Johanna Sigurdardottir, pictured here, the modern world's first openly gay head of state. The Washington Post followed up with an interview with the head of Iceland's Aydur Capital, named for a female Viking -- Aydur (Ey-dur) the Wise.
If the short article intrigues you, here's the Vanity Fair in depth piece.