Tuesday, October 25, 2016 @ 5:44 PM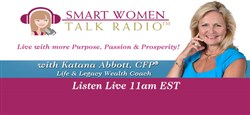 The long and painful 2016 U.S. presidential election has triggered long-overdue conversations and exposed deeply ingrained attitudes about what's acceptable for women -- to do and to tolerated. Smart Women Radio host, Katana Abbott, and I covered a lot of ground about these issues, which thinkers all over the world are talking about. Click here to listen or click here for the Smart Women Radio App.
Usage of content on this site for commercial purposes is strictly prohibited without written consent.