Eating your own words and living up to the advice you've given others may be one of the best reality checks we can give ourselves. I just re-learned that lesson -- the HARD WAY!

"Get Back in the Saddle" is the title of one of the chapters in my book, POWERING UP! How America's Women Achievers Become Leaders. In the context of leadership, the metaphor is all about overcoming professional setbacks and personal failure. I've made plenty of mistakes over the years, some pretty humiliating. Most taught me more than my successes. That's why I believe deeply in the power of "getting back in the saddle." Here's how I put it in my book:

"Leadership isn't about avoiding failures by not making mistakes. If you haven't failed - and I mean really failed - then you haven't truly tested your limits and discovered your full capabilities. What differentiates leaders is how quickly they pick themselves up, dust themselves off, get back on their horse and charge right back into the fray."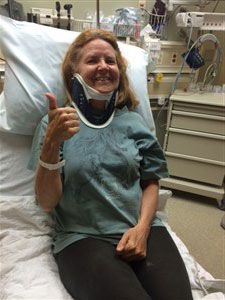 Sounds great, right? But it's one thing to pick yourself up and charge back into the arena when all that's wounded is your pride. It's another thing entirely when the setback shakes your confidence or takes you dangerously close to severe professional or personal consequences.

That's what happened to me two weeks ago.

I've been riding horses all of my life -- from the the time I was a horse-crazy little girl spending all of my tickets at the amusement park on pony rides to 20 years of getting up at 5:30 a.m. to feed and water my own horses and clean stalls before putting on my "power suit" and heading to work at Ford Motor Company.

Anyone who has decades of riding under her belt has hit the dust plenty of times. But two weeks ago I took the most dangerous fall of my life, going over my horse's head and landing, literally, on MY HEAD! When I hit the ground, I flashed Christoper Reeve's paralyzing fall and immediately tried wiggling my toes and legs to see if I still could. I ended up in the emergency room. Luckily, the CT scan showed no permanent injuries -- only a very sore neck and aching muscles, which are healing.

The deeper, longer-lasting injury is to my confidence. Confidence to do what I've urged thousands of others to do: Get Back in the Saddle! I feel vulnerable in a way I haven't for years. Fragile. Yes, scared. I pondered long and hard whether it was time to put away my boots and keep my feet on the ground.

But then my horse-riding friends kicked into gear, sharing stories of their scariest falls and advice on how they regained their courage to mount up again. They sent me quotes on courage, including:


"Life shrinks or expands in proportion to one's courage." -- Anais Nin
"Courage is resistance to fear, mastery of fear, not absence of fear." -- Mark Twain
"Don't be afraid of your fears. They're not there to scare you. They're there to let you know that something is worth it." -- C. JoyBell C

Great quotes help. When your confidence has been shaken, however, fear of failing again isn't far behind. That's why my outstanding trainer urged me not to wait too long before facing my fear and diluting the negative experience with positive ones.

Another wise friend put it this way, "Remind yourself of the skill you have, Anne, rather than replaying the frightening seconds when you took a bad fall. It's one thing to talk about getting back in the saddle, it's another thing entirely to do it. Building confidence requires ACTION!"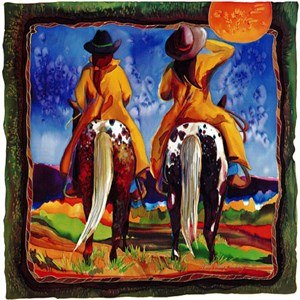 Life has a way of reminding each of us that no matter how hard we try to do the right thing and give it our best, failure, accidents, setbacks, mistakes and even unexplainable tragedies can show up at any time. When those moments occur, take the time to heal, as I'm doing now. Surround yourself with people who understand what makes you tick -- your source of joy or what fuels the fire in your belly that gives you the courage to be bold enough to make a difference.
Listen to their feedback and reflect on whether it's time for a course corrrection in your life or a moment to re-affirm that the risks you take are worth it.
Happy Trails.