Imagine this: Over 1,300 women from 85 countries (and a few courageous men) gathered in France for three, content-packed days of listening, learning, discussing and challenging one another to action the global DIS-EASE that connects us all: Gender Inequity and its many insidious tentacles.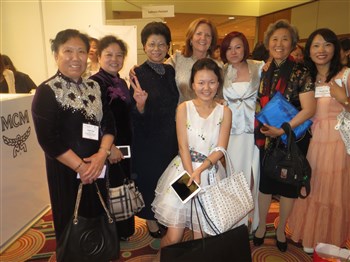 I was lucky enough to attend the event just a few weeks ago, June 5-7, 2014. This photo is with a few members of the large delegation from China.
Themed "Women: Redesigning Economies, Societies," the 2014 Global Summit of Women was the largest in the Summit's 24-year history.
Why Paris? The Republic of France was specifically chosen by Summit President and Founder Irene Natividad because that country has set -- and is well on its way to meeting -- national targets of 40% presence of women by 2017 among high-ranking civil servants and corporate board directors.
I've attended women's leadership conferences on four continents and have been enriched by each. The 2014 Global Summit's content was cuttting edge. The speakers, with deep expertise in the three major forces that shape culture -- business, politics and religion -- brought expertise and insight from all over the world. A few of my favorites were: Kosovo President Atifete Jahjaga; former president of Finland, Tarja Holonen; Joe Keefe, CEO of Pax World Funds; and Viviane Reding, European Commissioner for Justice, Fundamental Rights and Citizenship.
I took pages of notes. But over and over, from speaker after speaker these key insights kept emerging:
-- Stop Fixing Women! We've spent decades trying to re-tool women to think and act more like a man. Enough. Women are ready and perfectly capable of leading, which will include bringing their "womaninity" to decision-making to balance the abundance of "masculinity" that has been shaping most decisions for the human family for centuries.
-- Engage Men. We need many more courageous, influential men to step forward as vocal and visible allies, modeling for other men how to address gender inequity issues in their cirlces of influence. Take a look.
-- The Facts Are Overwhelming . . . about the economic and social benefits of Gender Equity. The time for more talk and more research is over. It is time for ACTION. Any company that is not committed to gender parity throughout the organization is obsolete. Don't join them. Don't support them with your investments. Check out Pax Elevate Global Women Index Fund to let your money do the talking.
-- Quotas Work. Europe is WAY AHEAD of the U.S. in this department. Without national quotas or public targets, as one male member told the Summit audience, ". . . gender equity will be a long battle; company by company, country by country." An effective alternative to quotas is publicly NAMING and SHAMING companies that are stuck in an entitled "good-old-boy" leadership rut.
-- Gender Violence Must Be Stopped. Whether it is hundreds of thousands of women raped as a weapon of war, sexual trafficking, genital cutting, women flogged and thrown in chains for violating Sharia law, domestic violence or sexual attacks on female soldiers in the military or college co-eds on our American campuses, sexual violence is a global plague. As Jackson Katz put it in his powerful TED talk, "Gender violence is not a women's issue. It is a men's leadership issue." If you haven't heard his message, please listen -- and SHARE IT!
-- Get Girls Younger. We must educate them. Encourage them. Innoculate them against the negative cultural messages and gender barriers that girls and women in every country on earth still must navigate.
-- Change Requires Collective Power. You can't break glass ceilings yourself. It's too hard. Do it collectively, strategically and for others -- our daughters, sons, grandchildren.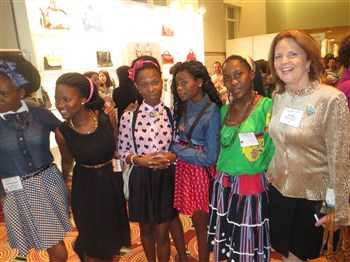 MEN ARE THE MISSING LINK
My book, POWERING UP! How America's Women Achievers Become Leaders, includes a chapter I called, "What Do Men Have To Do With It?" The answer, of course, is: they have EVERYTHING to do with girls and women becoming equal global citizens. From stopping sexual violence by men -- against girls, women, boys and other men -- to raising empowered daughters, carrying an equal share of "the second shift" at home, and prying open leadership locker room doors, men's active engagement is essential. Why? Two reasons: 1) Men still hold over 80% of the decision-making positions all over the world and 2) Men will follow other men and respond to peer pressure from other males.
Men's active participation and leadership in tackling gender issues is the area that most intrigues me these days. Can you feel momentum building? I can. A great example is the Australian organization, "Male Champions for Change (MCC)," formed by 25 Australian CEOS. Stephen Fitzgerald, a founding member of MCC and former CEO of Goldman Sachs/Australia & New Zeeland, was a speaker at the Paris Summit. He just agreed to do an interview with me for research I'm doing to answer this question that growing numbers of fathers, husbands, brothers, bosses and colleagues are asking, "How can I help? I'm starting to 'get' the gender barriers. What do you want me to do?"
Look for those men. They are all around us. Start a conversation. Ask them to take a look at the roadmap "Male Champions for Change" just published, "Accelerating the Advancement of Women in Leadership: Listening, Learning, Leading."
The status quo is rarely good enough -- and we need all hands on deck!
Anne Doyle, Auburn Hills, MIchigan, USA