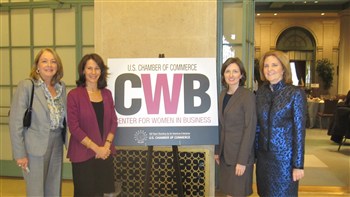 I was thrilled to be invited by the U.S. Chamber of Commerce, the world's largest business organization, to speak at its gorgeous Washington, DC headquarters. I was the keynote speaker at a leadership luncheon to mark the first year of the Chamber's new Center for Women in Business. So glad that the Chamber is putting its business muscle and resources behind the CWB.
Director Roberta Phillips and Special Projects Manager Natalie Masri have an ambitious agenda for the CWB in 2013, including their 2nd annual summit, coming up Feb. 28th in our nation's capitol. Over 100 aspiring women -- from each of the three distinct generations of high-achieving females (I call them: Interlopers, Insiders & Innovators) attended the event and received signed copies of my book, POWERING UP! How America's Women Achievers Become Leaders, thanks to the Chamber!
Click here to view my presentation, including a lively Q&A.
PHOTO: L to R: Kelley Cox, Exec. Dir. Chamber Business Development; Roberta Phillips, Director, Chamber Center for Women in Business; Natalie Masri, Manager, CWB Special Projects; Anne Doyle.