The Detroit area is home to the the largest Arab and Muslim population outside of the Mideast. Differences in gender roles are often at the heart of misunderstanding and discomfort with cultural differences.
Detroit NPR Talk Show host Craig Fahle led a courageous and fascinating conversation this week about the values and changing roles of Muslim women -- particularly here in the U.S. I was honored to be part of the discussion with Wayne State University experts Dr. Saeed Khan and Layla Saatchi.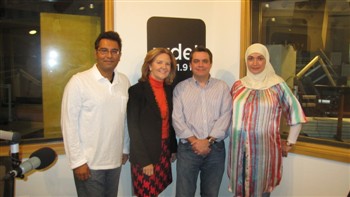 That's Craig and me in the middle! Click here to listen.