Saturday, March 19, 2011 @ 8:18 AM
WXYZ-TV's Chuck Stokes invited Southfield, MI Mayor Brenda Lawrence, executive coach and business consultant Blanca Fauble and me to his "Spotlight on the News" studios this week to talk about women's leadership and my book, Powering Up! We covered some great ground. Tune in Sunday, March 20th at 9:30 a.m. After that, we'll post the show here.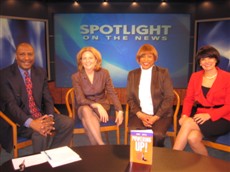 Usage of content on this site for commercial purposes is strictly prohibited without written consent.