My Millennial son, Kevin, and I have had a running joke (usually off-color) between us for years around the expression, "That's what she said."
But in the last few weeks, "that's what she said" has taken on new meaning for me. I'm worn-out and disgusted with the nearly daily, cultural overdose of "breaking news" coverage about the latest racist or vulgar insult some celebrity, elected official or business leader has tweeted to the world.
I'm much more interested in wisdom being shared than in stupidity being spewed. So, here's some good news.
For the first time in over 20 years, what she said has dominated what he said at commencement ceremonies throughout the USA. This year, females keynote speakers, from Amal Clooney and Oprah Winfrey to Sheryl Sandberg and Queen Latifah, had the last word for graduates at the majority of American colleges and universities.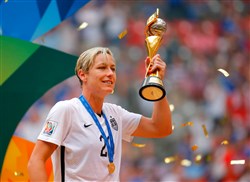 The biggest buzz was created by the powerful message that legendary soccer champion Abby Wambach delivered to the Barnard College class of 2018. The FIFA Women's World Cup champion and two-time Olympic gold medalist challenged the all-female graduating class to "be the wolves in the world" to move society forward.
Give yourself a gift and read her entire inspiring message here. Or, better yet, watch the video.
If you haven't followed USA Women's Soccer over the last decade, you may not know how dramatically Abby Wambach changed the game. You should know. This short video will help.
Her memorable message included Four Rules she urged the next generation of women to embrace.
Rule One: Make Failure Your Fuel.
Rule Two: Lead From the Bench
Rule Three: Champion Each Other
Rule Four: Demand the Ball.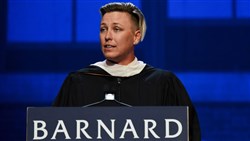 Wambach told the graduates she learned the importance of Rule Four by watching one of her soccer sheroes.
She urged the graduates to embrace it as their rallying cry to tackle the gender bias that still awaits, telling them: "Give Me The Effing Ball! Give me the effing job! Give me the same pay that the guy next to me gets! Give me the promotion! Give me the Oval Office! Give me the respect I've earned! And give it to my wolf pack (sisters), too!"
Abby Wambach has always been a team player, "... in search of significance, not just success," as she has often said. Significance for her team, for her sport and, most importantly, for the next generation of girls.
I hope you'll join me in taking a page from a legendary leader's playbook and strive for signicance on our watch. Which leaves little time for worrying about the very insignificant tweets of nobodys.
Power On! Anne
P.S. Two don't miss movies: RBG, the life and legacy of Ruth Bader Ginsburg and Book Club, I laughed my way through the whole thing!