Something happened last night in Hollywood that may have an impact on the whole world. Yes, it was the #METOO and #TIME'SUP night, as women dressed in black, men wore supporting lapel pins and putting an end to sexual harassment and assault dominated Red Carpet and Honoree comments.
But the most powerful moment of the night came when Oprah Winfrey received the Cecil B. deMille Lifetime Achievement Award. It is a coveted, honorary Golden Globe, bestowed by the Hollywood Foreign Press Association for "outstanding contributions to the world of entertainment." She deserved it.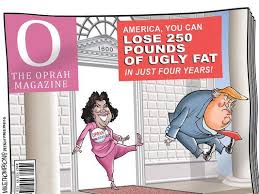 But her greatest contribution may have been her acceptance remarks, which brought tears to the eyes of many, particularly women, in the star-packed audience, and were broadcast all over the world. Her message was one for the ages. I'm not going to attempt to explain the power and impact of her words. If you stayed up late and saw it live, you witnessed history ... better yet, herstory. If you haven't seen it, you need to. Watch it several times and soak it in. Then share it. Here's the link.
Her message re-ignited talk about Oprah Winfrey as a potential 2020 candidate for President. After last night, that talk is getting serious. And it should.
First, because she's clearly qualified and respected all over the world. Second, because of her integrity, clarity and values, an Oprah Winfrey Administration would be the most powerful antidote I can imagine to the toxicity that has America in its nasty grip.
Do I think she could be elected? ABSOLUTELY!
As discouraged as millions of us were one year ago when we took to the streets in Washington, DC (I was there), and in cities and countries all over the world, to express our outrage over the defeat of an incredibly qualified woman by a profoundly unqualified man, I believe the United States is on the verge of electing our first woman president. I'm hoping to live long enough to witness it.
I've also come to believe that it is more likely that an African American woman will crack that ultimate "marble ceiling" before a white woman. Why? Because I believe our culture is more comfortable with powerful, eloquent African American women, such as Oprah, than we are with white women who dare to raise their voices too much and have the audacity to aspire too high.
What do you think? Whether you agree or disagree with me, I'd love to hear from you. If you respond to this email, I'll answer! Anne
P.S. I'm getting ready to launch my PODCAST, which will be broadcast, initially, every other week. My launch date is March 8th: International Women's Day -- and the day that a National Women's Strike is scheduled in the U.S. What interesting times we are living in. Let's not be bystanders.