If you know anything about construction, you know that beams and joists, be they wood or steel, are fundamental building blocks. But do you also know what the construction term"sistering" means? I just learned that "sistering" is all about making structural elements even stronger, by reinforcing them with additional support.
But sistering isn't just for construction. It's equally important for human progress. Significant social change demands not only individual bravery, the tenacity to stand your ground against inevitable resistance and, when necessary, the courage to fight for what is right. It also requires collective action -- standing shoulder-to-shoulder with others for greater impact and strength.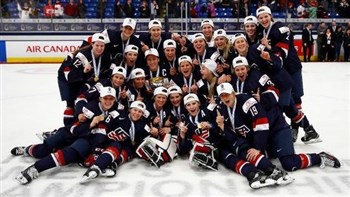 If you're looking for modern-day examples, as I always am, look no further than the U.S. Women's Ice Hockey team whose members just taught a master class in the power of "Sistering." You may not know their story because even "big news" made by women is rarely given the media coverage it deserves. But the willingness of these world-class athletes to fight for fair compensation for their skills and to stand together for the development of women's hockey, led to one of the biggest leaps forward in the history of women's sports.
In a nutshell, here's what happened.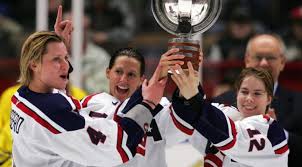 After years of pathetic compensation and disrespectful treatment by USA Hockey, the governing body of organized men's and women's amateur hockey, the U.S. womens' national hockey team threatened to boycott the IIHF World Championships just a few weeks before teams from Russia, Finland, Sweden, Germany, Czech Republic, Switzerland and Canada were scheduled to face off in Plymouth, Michigan. The women took their stand, risking the right to defend their World Championship, after 14 months of negotiations had stalled.
To no one's suprise, rather than addressing the athletes' very legitimate concerns, USA Hockey tried to form a replacement team, contacting dozens of pro, college and high school players all over the country. But to their credit, women hockey players, who normally would have jumped at such an opportunity, stood with their hockey sisters and refused to play.
Members of the U.S. Women's Soccer team, who've been embroiled in their own compensation fight for years, added their support. Then, new allies appeared. Players' unions from Major League Baseball, the NHL, NBA, NFL as well as the U.S. national men's team and the National Women's Hockey League threw their support behind the women's fight. Even 16 U.S. Senators weighed in with public support.
Because the women stood up and stood together for what they believed was right, just days before the World Championships were set to begin, they won a four-year contract with USA Hockey that was a stunning victory for women's hockey and gender pay equity. Before their fight, America's best female hockey players earned only $1,000 per month in the six-months leading up to the Olympic Games. With their new contract, they will earn $70,00 in non-Olympic years and could earn up to $100,000 for medal bonuses in Olympic years. They also won travel per diems and medical insurance comparable to the U.S. men's team.
But their fight wasn't just about money. It was about the next generation of girls. Your daughters and granddaughters. The new contract requires USA Hockey to dramatically increase its investment in girls' developmental teams, as well as marketing and pr for this growing sport.
"We're going to be able to grow the women's game and give youth girls something to look up to, and that's huge," team-member Megan Keller told the Detroit Free Press. "It's about the future."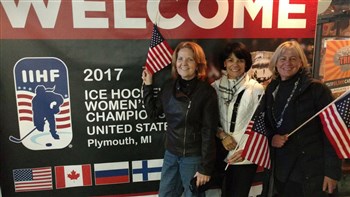 I was lucky enough to be in the sold-out, standing-room-only USA Hockey Arena for the final championship game when Team USA met Team Canada -- their arch rival and the definding Olympic gold medalists. As a former sports reporter who covered the Title IX battles of courageous girls who were forced to wear athletic cups by Little League coaches enfuriated that girls had won the right to compete for spots on their teams, it was a thrill to witness how far women's hockey has come in its 30 year history. The speed of the game and skill of the athletes gave me goosebumps.
And it's no surprise that the women who achieved this precedent-setting victory are athletes who play a TEAM sport which requires the willigness and toughness to fight for the puck and dish out as well as take your hits along the boards. The Americans had something to prove that night. Their skill, guts and courage were all on display as they won their 4th straight World Championship Gold medal with a 3-2 overtime victory.
Social progress isn't for sissies. Nor is it for prima donnas or Queen Bees who prefer being the only woman in the room to helping open doors for others. It takes courage, tenacity and collective support -- sistering. As Megan Keller told reporters, "The thing I think of is how everyone stayed together, not just this team, but the college player pool, the younger girls, other sports chiming in. It was amazing to see. You don't think it's that big now. But years down the road, we are going to look back and think, wow, we did that."
This was just one victory in the ongoing war for gender equality in every arena and on every continent. At a time when it feels as if women's progress toward the full equality I dream of has taken two steps backward, it warmed my heart to see young girls at the championship game holding home-made signs up against the glass for players to see which read, "Thank you for being bold."
Take a page from these millenial American sheroes. As the hash tag urges, #Be Bold for Change.
Onward! Anne