Dear Thinkers, Friends, Global Citizens,
The "fire in my belly" is focused on helping to create a world where women and girls can achieve their full potential. It fuels my work as a Keynote Speaker, Author and Voice for those who cannot speak for themselves. It is also the area of greatest opportunity for human evolution. Because, at the beginning of the 21st Century, our greatest untapped natural resources are the brainpower, talent and wisdom of the female half of the human race.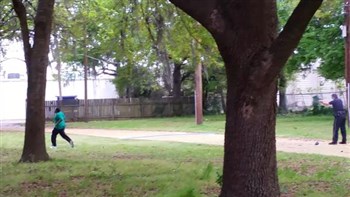 But I also care deeply about protecting and respecting the safety of the world's children, the health of our planet, and the right of every individual, as our U.S. Constitution affirms, "to Life, Liberty and the pursuit of Happiness." That is why I am dismayed and grieving, along with millions of Americans, over a stunning event that just occurred in our nation. A fleeing male, African American U.S. citizen was shot in the back eight times by a white, male, South Carolina Police Officer. Because someone was courageous enough to capture those terrible moments on cell phone video, the officer has been fired and charged with murder. The video is difficult, but important, to watch.
In every corner of our globe, humans are the only life form that attacks its own for inexplicable reasons. This is one of those days when I stagger under the weight of another tragic commentary on our species. My response is an even deeper commitment to do everything in my power to help bring balance to the decision-making of the human family. We must CLOSE THE GENDER LEADERSHIP GAP. Let's not leave it for others to do.
On My Mind – What else am I thinking about?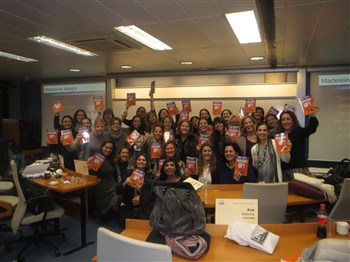 Spain- I spent the month of February in Spain and was privileged to teach at ESADE Business School in Madrid, as part of PROMOCIONA -- an Executive Women's Leadership Program for women from top companies in Spain. Here's a photo of these fabulous, young leaders just after they received copies of my book, POWERING UP!
• Ellen Pao and Sexism in Silicon Valley. Reddit CEO Pao may have lost her case but her conviction in confronting VC firm Kleiner Perkins has turned up the heat on hostile, frat-boy work climates that are driving women out of STEM fields in staggering numbers. Here's one of the best articles I've read on the ongoing impact.
• Women in Tech Experiencing Death by 1,000 Cuts. Those are the words of Ellen Pao. Here's a terrific Harvard Business Review article on the facts behind Pao's compelling claim. Women Rising: The Unseen Barriers.
• A Woman's Place is On the Money. Momentum is building in the U.S. for the first woman to be featured on our paper currency. African American Shero Rosa Parks, whose refusal to sit in the back of an Alabama bus symbolizes the beginning of the Civil Rights movement in the USA, is the leading vote-getter to replace Andrew Jackson on the $20 bill. Here's the link to vote.
• London Women's Leadership Conference. I'm thrilled to have been invited to be one of the Keynote Speakers at the June Women Mean Business Conference in London, co-sponsored by the Women's Leadership Network and the UK's Department for Business Innovation and Skills. My theme: Invite Yourself to the Leadership Dance!
• Jimmy Carter Raises His Voice Against Religious Sexism. The former U.S. president and deeply-spiritual Christian has just severed his ties with the Southern Baptist Convention over church leaders re-newed insistence on the subservience of women to men. Here's his compelling explanation of why he has taken this painful but powerful step. I've long admired and appreciated the decades of contributions President Carter and his wife, Rosalyn, have made to lifting the human family. I highly recommend his most recent book, A Call to Action: Women, Religion, Violence and Power.
Cool Upcoming Events:
• Global – Johannesburg, South Africa. The Global Cornerstone Conference of the International Women's Forum, one of the preminent global networks of women leaders, will be in South Africa this year. Over 600 inspiring and accomplished "Sisters" from nearly 40 countries will gather to learn, discuss and consider, "Legacy & Inheritance: Journey Into the Future." I'll be there.
USA – New York City, April 22-24. Women in the World Annual Conference is one of the BEST I have ever attended. Big Names; Powerful Content. If you haven't attended, add it to your bucket list -- this year or next!
• USA – Detroit, Michigan, April 28. Women of Courage & Achievement Awards, hosted by Michigan Women's Foundation attracts over 800 movers and shakers. Great networking. See you there!
• USA – SE Michigan, April 30. WONonder Women Awards, annual event hosted by the Women Officials Network (WON), which is committed to increasing the number of women in office. I'll see you there, too!