The third annual Women in the World Summit, hosted by Newsweek magazine and The Daily Beast, attracted several thousand activists, organizers, politicians and leaders and thinkers from more than a dozen countries to New York City for 2 1/2 riveting days of interviews, discussions and stories., March 8-10th.
From the opening evening, highlighted by a conversation with IMF head Christine Lagard, to the closing moments with Secretary of State Hillary Clinton, the summit was packed with courageous conversations about some of the toughest global issues facing women all over the world -- including human trafficking starvation, rape as a tool of war, genital cutting, sexual attacks on women in the U.S. military and women's continued exclusion from the highest levels of politics, business and civil society.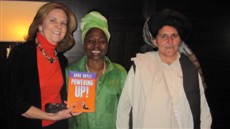 I was privileged to be there and to engage with incredible women such as the two in this photograph -- Kah Walla, who ran for president in Cameroon last fall, and Bibi Hokmina, a member of an Afghanistan Provincial Council who has been dressing as a male since childhood.
Think of a powerful female leader working to change the status quo for women and girls in the world and she was there. Nobel Peace Prize winner Leymah Gbowee from Liberia; Molly Melching, the U.S.-born founder of the Tostan organization, who has lived in Senegal for more nearly 40 years, working to stop female genital mutilation; Madeleine Albright, Kosovo president Atifete Jahjaga, American actvists Gloria Steinem, Angelina Jolie, Oprah Winfrey. And some of the brightest lights among the young women -- some still in their teens -- who are already stepping up with new solutions to complex problems.
It is all online -- whether you only have time to browse the highlights or can give yourself the gift of listening to it all, don't miss sampling this rich brew. It will challenge you to ACT! Click here to listen.
,