---
For years, I've been whining about how few women political leaders and elected officials we have in the U.S. – even today. From the U.S. House of Representatives and Senate to state legislatures and local school boards, men still dramatically outnumber women. We're not even close to that magical 33% tipping point where you begin to change the conversation.
So, every chance I get, I'm always urging women to run for office. This spring, it was another woman who finally called my bluff. Mari Harvey Edwards, the former Mayor of my hometown of Auburn Hills, Michigan, told me, "Anne, how about practicing what you preach? Why don't you stick your own neck out there and run?"
She nailed me. So I ran -- for a seat on the Auburn Hills City Council. And I won!
Running for office requires moving out of comfort zones, knocking on unfamiliar doors and reaching out to neighbors in ways that daily life rarely requires. In the process, it is the candidate who is enriched.
What did I learn? Plenty. The biggest insight is this: American women are on the verge of a tremendous surge into political leadership. What makes me so confident?
We've learned that power takes money – and we're getting over our fear of ASKING and GIVING. In the beginning, it wasn't easy for me to ask for money. But once a few great friends turbo-charged me with big checks, I started to get the hang of it. Mine was a non-partisan election, and I was thrilled to receive checks from friends and colleagues from all sides of the political spectrum. Each check that arrived was a vote of confidence. A signal of trust. I still can't get over Eileen Padberg, a member of the California International Women's Forum whom I've never met. She wrote a check for my campaign because, as she put it, "I want to support another woman leader." So don't believe that old husbands' tale that "women can't raise money." Yes we can!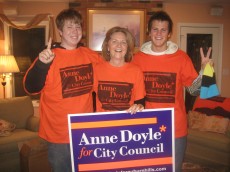 We've learned that we don't have to do everything ourselves. My bet is that most of you have as difficult a time as I do asking for help. We're so used to being independent and proving how doggone capable we are that it feels like weakness to ask for help. Sound familiar? You just can't run for office, at least not successfully, all by yourself. You have to give in and accept help from others. I was astonished by the amount of time that friends generously gave to help me with the campaign. I was also incredibly lucky to have several high-powered, highly-accomplished, Type A friends in "career transition" with a little extra time on their hands. We had a lot of fun together, and we all developed new skills in the process. My 17-year-old son, Kevin, and his best friend, Luke, -- pictured here -- also helped and learned about being engaged citizens.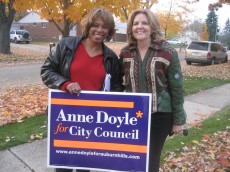 The pool of political mentors is getting deeper. I had tremendous support from other women political leaders. For example: Michigan Senator Gilda Jacobs, a seasoned politician, schooled me in campaign strategy and tactics. Southfield Mayor Brenda Lawrence took the time to knock on doors for me, even though she was running for re-election herself. I returned the favor, of course. She was elected to a third term with 78% of the vote. Clearly I needed the help more than she did! County Commissioner Marcia Gershenson braved the cold and bitter winds on election day to stand outside voting precincts for me. And it wasn't just women who gave me a hand. State Representative Tim Melton and County Commissioner Tim Greimel also jumped in with both feet.
The White House Project is in high gear. The WHP is another key reason I believe we're about to see a big increase in the number of women political leaders. It's one thing to encourage women to run. It's another thing entirely to launch a national, non-partisan initiative focused purely on dramatically increasing the number of women running for office. The WHP has already trained over 15,000 women candidates and plans to train over 36,000 by 2013. I'm part of the Michigan Cabinet of the White House Project and also attended their one-day Debate Boot Camp. Remember the TV series Commander-in-Chief, with actress Gina Davis playing the first female president? Davis now serves on the National Board of the WHP, and last week met with women political leaders in Detroit, telling us, "It's all about numbers. We need to see a big increasing in the number of women holding office." In the photo with Gina is White House Project Founder and President Marie Wilson and Saunteel Jenkins, newly elected member of the Detroit City Council.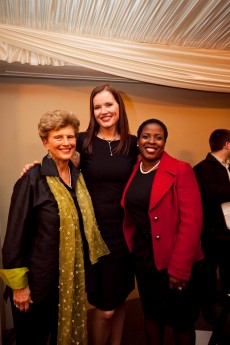 IT'S ALL ABOUT TRUST: It's an incredible feeling to see your campaign yard signs on the front lawns of people you've never met. I found myself stopping my car and running up to their doors to introduce myself and thank them. It's an even more humbling experience to stand at the City Clerk's office on election night and watch the votes come in. My joy over winning was quickly replaced with an overwhelming feeling of responsibility. You start realizing very quickly that people are counting on you to represent them – to be at all of those meetings that they don't have time to attend. To be careful stewards of their resources and make the best decisions you can.
It wasn't that long ago that women doctors and lawyers were in the minority. Yet today, we're on the verge of more women graduating from law school and medical school than men.
I predict the same thing is going to happen – sooner rather than later – in political leadership. Let's help each other over the hump. Culturally, women still need that extra nudge. I needed it, too. Yet once I walked out onto the edge of that psychological "high diving board" and took the plunge into the political waters, I was absolutely astonished at the support that materialized all around me.
It felt like I was being lifted by invisbile forces. Or, as if a strong wind was at my back – urging me forward. It's urging you, too. Come Run With Me!