The Oakland Press, Sunday February 11, 2007
By Kaniqua Daniel Smothers
---
Doyle said she grew up with a strong tie to community news, sports and the drive to bring about change "the way Nancy Pelosi (House Speaker, D-Calif.) grew up in politics."
She is the daughter of the late Vince Doyle, a well-known sports broadcaster of the 1970s who was inducted into the Michigan Media Hall of Fame in 1980. Her mother, the late Isabel Doyle, was a speech and debate instructor at Indiana University.
"I guess you could say I got my strong debating skills from mom and my journalism and sports savvy from dad," Doyle said. "I think I'm one example of a generation of women and minorities who led tremendous change in the last three decades in the work environment. Many people did a lot of tremendous things to help break down barriers and open up doors that were locked for many years."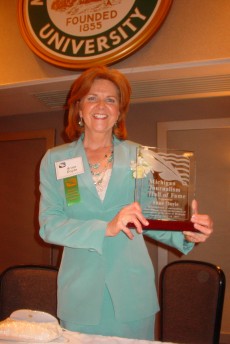 One of those barriers was the opportunity for female reporters to equally cover sports. Doyle made her mark in the journalism industry in 1979 when she became one of the first female TV sports broadcasters in the country to gain access to professional locker rooms.
For her groundbreaking success in sports broadcasting and special reports on the Title IX Education Amendments of 1972 and other major stories of the 1970's, Doyle, a 58-year-old Auburn Hills resident, is being inducted into the Michigan Journalism Hall of Fame.
She will be joined by four other inductees April 14 at Michigan State University Kellogg Center for a formal induction ceremony.
"She's made great strides," said Jane Briggs-Bunting, Michigan Journalism Hall of Fame committee chairwoman. "It's really an incredibly strong class of inductees, (and) four out of the five are women. I think that in itself is recognition of the strides that women have made in the profession. . . . But it isn't simply enough to be the first to do something. You have to have a solid career, just as Anne did."
Doyle is now a professional speaker and president of Anne Doyle Strategies, a leadership and communications consulting business. A WJBK-TV Detroit reporter from 1978 to 1984, Doyle insisted she be allowed to join her male colleagues in the locker room after games, creating a furor in the journalism industry. She was the first woman hired full-time as a radio news reporter and anchor at WJIM-AM in Lansing and the first woman to anchor a newscast at WZZM-TV in Grand Rapids.
In 1987, she joined Ford Motor Co. and rose to director of Ford North America Communications. Two Michigan Emmy nominations and a listing in Who's Who of American Women are among her honors, as well as being named by Automotive News in 2000 as one of the 100 Most Influential Women in the North American Auto Industry.
Doyle recalls when WWJ-AM Detroit denied her a job in 1972. "They told me people will never listen to women because their voices are too high," she said.
Then George Blaha, now the voice of the Detroit Pistons, gave Doyle her first job with WJIM-AM in Lansing.
"Look at women now. There are tremendous opportunities, more than ever before," she said. "We've seen great progress for women and minorities in the media, and that makes me proud. . . . But certainly, there is still a long way to go in terms of appropriate numbers in all media outlets, such as more women and minority reporters, editors, columnists and decision-makers."
One of the most important things Doyle said she has learned in the business is to provide opportunities to people "who don't remind us of ourselves."
"I was given a chance by white men. There were no women in positions to hire me at that time," she said. "I think it is important when we mentor and hire people . . . we need to start looking for talent and ability in all genders and backgrounds."